Leading From an Enterprise Perspective:
Integration and Practice for Leaders at a Health Solutions Company
Abstract
High-potential leaders in a prominent health solutions company need to build skills to lead beyond their function and organization. Insight Experience provides a 16-hour virtual experience over four days for participants across the enterprise. The simulation-based program enables leaders to think from an enterprise perspective, practice skills and assess their effectiveness at balancing leadership.

Challenge
A leading healthcare retail, pharmacy and insurance company has doubled in size through acquisition and organic growth. The business needs to grow leaders who can see opportunities from an enterprise perspective, develop relationships and networks across organizational boundaries and influence to deliver results in a complex environment. High potential leaders learn and build these skills over multiple months with modules focused on specific elements. The simulation module challenges leaders to apply and practice those skills in combination and understand their potential to impact business results.
Solutions
The Leaders of Influence business simulation program is a module in a nine-month development journey for participants. Teams of leaders manage a business unit of a larger organization. The simulation challenges leaders to deliver results for their unit, while collaborating and supporting broader organizational opportunities. Participants reflect on the experience to better understand their balanced leadership, develop strategic thinking skills and learn how to develop an Enterprise Mindset.
Learning Objectives
Participants develop and improve skills to:
Lead from an Enterprise Mindset to set direction, identify opportunity and leverage enterprise value.
Think strategically about the business dynamics across the enterprise.

Deliver results working across boundaries in complex organizations.
Foster agility by being proactive, curious and communicating the "why" as well as the "what."
Design Highlights
| | |
| --- | --- |
| Actionable Models | Content Application and Reflection |
| The program focuses on the skills of cultivating an Enterprise Mindset. Participants have opportunities to bring this mindset to business opportunities and challenges in the business simulation and then apply these skills to their roles back on the job. | This program intersperses simulation decision-making and learning debriefs with active application of core concepts. Participants create a team and engage in self-assessment of their balanced leadership. |
| | |
Participants also identify opportunities to expand their enterprise network: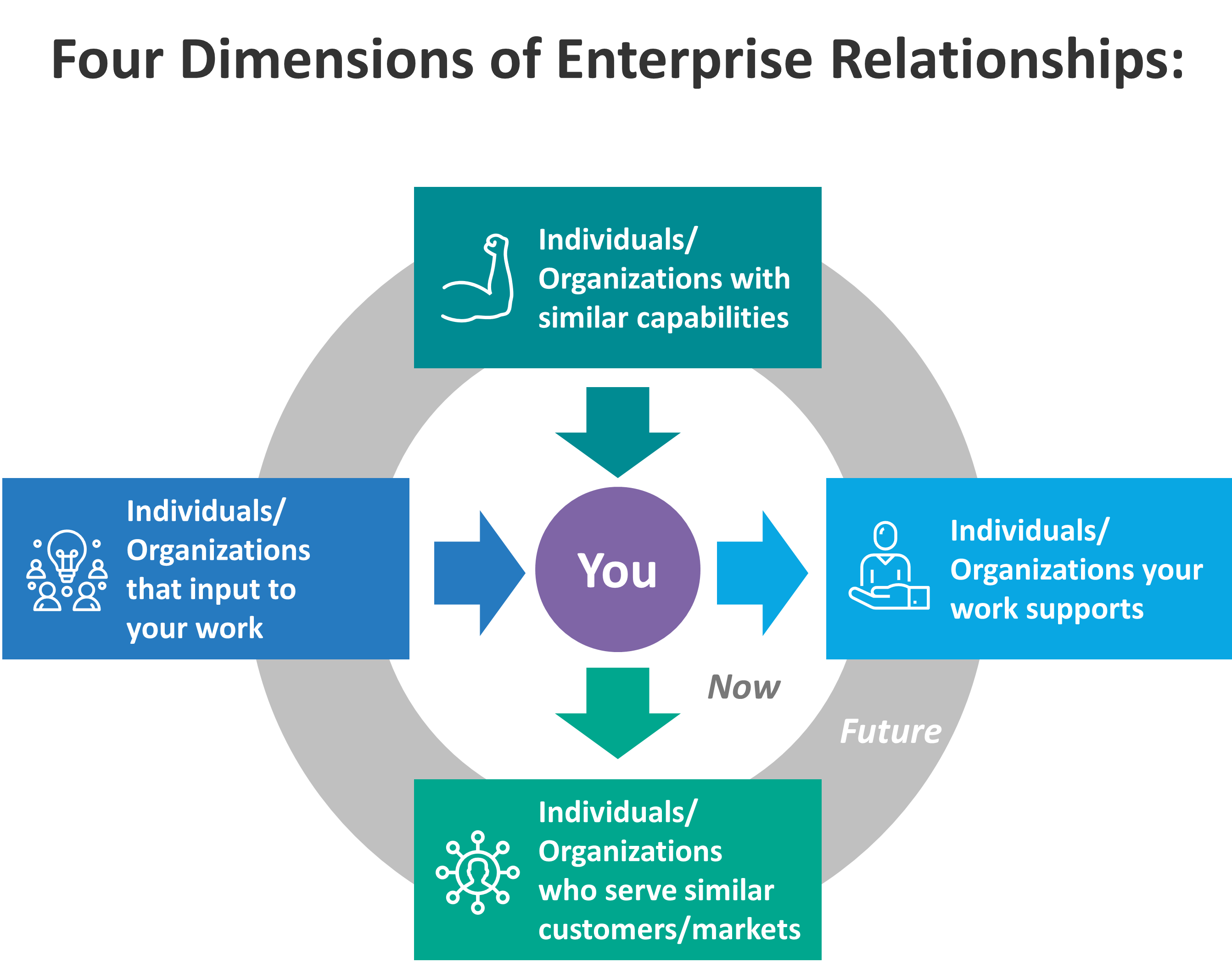 Learning Reinforcement
After the program, participants receive weekly Insights to Go—mobile-friendly, five- to eight-minute learning experiences—designed to reinforce the program content and nudge their application of new ideas back on the job.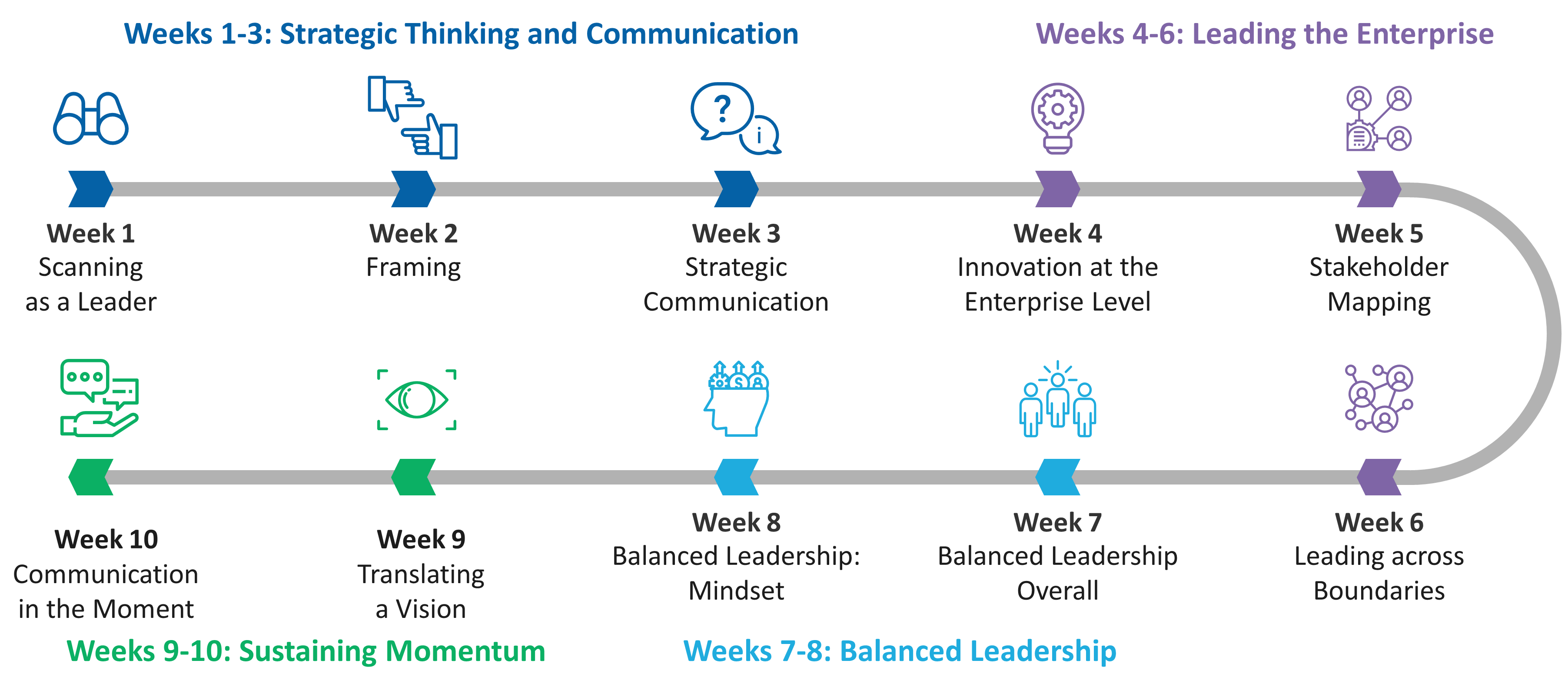 Simulation Overview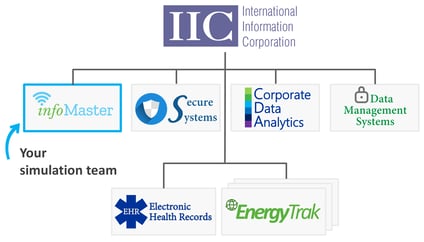 Participants take on the role of General Manager of a business unit of a larger corporation with significant growth objectives. The business unit has customer, product and technology synergies with other businesses in the enterprise. The simulation challenges leaders to make operating decisions to deliver growth and simultaneously improve profitability.
Role plays and overlaid scenarios challenge participants to address corporate requests for resources and partner with other business units to meet customer needs. Through the simulation-based interactions, participants practice influence, inquiry and advocacy.
Success in the simulation is evaluated based on both individual business unit performance and enterprise business results.
History and Results
This program has run annually for this client since 2017 for cohorts of 50-70 participants at one time.
Here is what some participants have said about this program:
"

Truly wonderful, I wish I could send my team to this activity and exercise."

"This was a great week of learning."

"Team was great and overall this program was very beneficial."

"Really enjoy this program. I appreciate how important these simulations are to my growth and how difficult it is to create an effective simulator."

"Thank you for the facilitation, it was great. Really enjoyed the time spent with my sim team. Felt like a way to network while also learning on the job, which is the type of networking that I enjoy the most/find most useful (vs. coffee chats). I find I can develop deeper relationships when partnering cross-functionally to solve problems."