Effective Decision-Making:
Leading an Organization Through Timely and Impactful Action
Abstract
Senior leaders at a top New England insurance provider need to develop the skills and behaviors for better, faster decision-making. This virtually delivered program spans four half-day sessions and includes individual assignments, facilitator-led presentations, and simulation decision-making. Over the past two months, this program touched over 100 leaders, providing them with actionable models and frameworks to use back on the job.

Challenge
For one of New England's most iconic insurers, senior leaders are challenged to make timely, effective decisions. These leaders face decisions on three levels: ones they translate to their teams, ones they make themselves, and ones they influence. But in a quickly changing, highly regulated market, risk aversion can lead to slow and ineffective decisions. How can senior leaders practice in a safe environment the quick, yet informed, decision-making necessary for the job while simultaneously learning new models and techniques — and without the learning experience burdening their precious time?
Solutions
The Effective Decision-Making program was artfully designed to immerse senior leaders in 16 hours of hands-on experience, including reflection and feedback activities, applicable exercises, supporting content, and participation in a business simulation to practice the core content of the program. Participants work together in small groups to complete these activities within a limited time frame, replicating the work environment in which these leaders must succeed. Continuous reflection and group discussion around results create real-time learning for leaders. Application exercises then facilitate the simulation experience and their work back on the job. The program employs a variety of learning methodologies, including:
Individual assignments that incorporate content and frameworks designed to develop effective decision-making skills.
Guided reflection activities to encourage self-awareness and commitments for action.
Large group conversations — live discussions focused on peer input around key learning points.

Small group activities, including virtual role plays designed to build critical interpersonal and leadership skills.
A dynamic business simulation in which participants are charged with translating, making, and influencing difficult decisions.
Facilitator-led discussions and presentations.
Learning Objectives
Participants develop and improve skills to:
Cultivate a leadership mindset that empowers, inspires, and challenges others.
Translate decisions for stronger team alignment and performance.




Make better decisions under pressure.
Influence individuals across the organization.
Better understand how one's leadership actions impact business results
Design Highlights
Program Agenda
As a result of the COVID-19 pandemic and the need for social distancing, this program was delivered virtually. However, this didn't preclude the need to give leaders an opportunity to connect with, and learn from, one another. In response to those needs, Insight Experience developed a fully remote, yet highly interactive, offering delivered over four half-day sessions.
Session One

Session Two

Session Three

Session Four

Program and Simulation Introduction
Translating Strategy
Simulation: Round 1 Decision-Making
Leadership Mindset: Introduction




Debrief: Session 1 Results
Strategy Integration Activity
Simulation: Round 2 Decision-Making
Effective Decision-Making

Debrief: Session 2 Results
Influencing Decision-Making
Simulation: Round 3 Decision-Making
Large Group Discussion

Leadership Mindset Discussion
Team Feedback
Debrief: Session 3 Results
Integration Activity
Wrap-Up
Interactive Virtual Learning Format
Effective Decision-Making was designed to promote both individual and group activities and reflection. Participants access the program via a video-conferencing platform that allows them to work together both in large and small groups. Learning content and group discussions are done as one large group, enabling consistency in learning and opportunities to hear from all participants. The business simulation decision-making and reflection activities are conducted in small groups, allowing teams to develop deeper connections and conversations.
Simulation Overview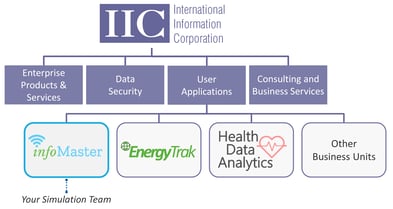 Participants assume the role of a General Manager for InfoMaster, a message management provider. Their leadership challenge as the GM is to translate the broader IIC organizational goals into strategy for their business, support that strategy though the development of organizational capabilities and product offerings, manage multiple divisions and stakeholders, and consider their contribution and responsibility to the broader organization of which they are a part.
Success in the simulation is based on how well teams:
Understand and translate organizational strategy into goals and plans for their business unit.

Align organizational initiatives and product development with broader strategies.

Develop employee capabilities required to execute strategic goals.

Hold stakeholders accountable to commitments and results.

Communicate with stakeholders and involve others in plans and decision-making.

Develop their network and their influence within IIC to help support initiatives for the organization
History and Results
Effective Decision-Making was developed in 2020 as an experience for senior-level leaders. After a successful pilot, the program was then rolled out to two more cohorts in 2021 and 2022. The senior-level leaders who participated in the program then requested we offer the same program to their direct reports. After some small adjustments to make the program more appropriate for director-level leaders, the program was launched in 2022 for approximately 100 directors.
Here is what some participants have said about this program:
"

One of the better programs we've done here at [our organization]. Pace was very quick but content was excellent and approach made it fun

."

"

Loved the content and the flow. Very nicely organized and managed. Thank you!

"

"

Really enjoyed the collaborative nature of the simulation."

"

It was wonderful and I felt it is a great opportunity. Learnt and reinforced leadership training and what it would take to be successful."

"One of the best I've experienced — especially appreciated how the reality of [our organization] was incorporated and it was with similarly situated peers."

"This program was great! It gave good insight into how to enhance my skills as leader by adopting the leadership mindset."

"Loved the fast pace, having a sim group that had various backgrounds in the company and seeing the results of our decisions at the corporate level."

"Great program — I love the concepts highlighted during these sessions."