Business Acumen for Operational Leaders:
An Intensive Accelerator Program for Emerging Retail Leaders
Abstract
Front Line Leaders (FLLs) at a heavy equipment dealership learn about the drivers of profitability and company-specific financial terms and metrics. This award-winning program asks participants to practice course concepts in a simulated multifunctional business that is modeled after the client's core business. Delivered in both English and Spanish, it fills an important need in providing the client's FLLs with introductory business acumen and financial literacy skills and helps them understand how other lines of business contribute to the company's financial performance.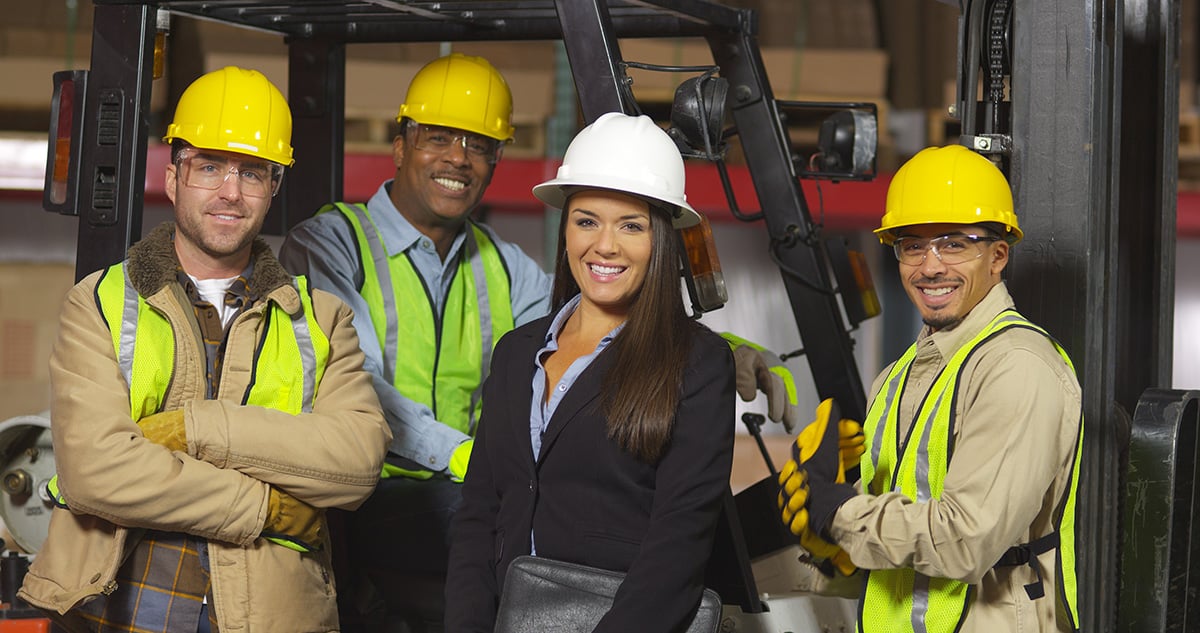 Challenge
A multibillion-dollar heavy equipment dealership developed a comprehensive leadership development curriculum for its operational leaders. The curriculum's design was informed by the company's newly crafted leadership competency model. The client wanted a highly experiential solution to help its operational leaders better understand and practice specific leadership competencies, including Commercial Mindset, Decision Quality, Driving Results, and Customer Focus. The solution needed to support more than 1,300 operation leaders located in Canada, South America, and the United Kingdom.
Solution
Insight Experience and the client partnered to develop a 16-hour learning experience, branded as Powering Up: Financial Literacy for Front Line Leaders, which can be delivered in person over two days or virtually over four sessions at four hours each. The program teaches business acumen and financial literacy skills to the company's operational leaders and specifically focuses on teaching participants the drivers of profitability and financial performance. The primary learning methodology is a highly customized computer simulation that models profitability at the enterprise and business unit level. The primary purpose of the program is to help participants understand how they impact profitability for their company. The program needed to be delivered in English and Spanish to support the client's international locations.
Powering Up: Financial Literacy for Front Line Leaders employs a variety of learning methodologies, including:
The presentation of course content and concepts, using virtual collaboration software, by an experienced facilitator.

The application of course concepts via a customized business simulation.

Small-group activities and exercises that use virtual breakout room functionality.

The use of collaboration software to improve participant engagement, including polling, chat discussions, and annotation.

The application to everyday work of program insights and skills learned.
Learning Objectives
As a result of the experience, participants better understand:
How their business makes money.
How different lines of business contribute to enterprise financial results.
Why it is important to run the business profitably.
Elements and drivers of profitability and how to impact them.
Key functional metrics, both financial and operational, and what they indicate about the health of the business.
The impact of employee performance on financial performance and customer satisfaction.
Design Highlights
The Powering Up: Financial Literacy for Front Line Leaders program, designed to be delivered virtually to the client's operational leaders located in Western Canada, South America, and the United Kingdom, is a highly customized solution. Both the content and business simulation itself are modeled after actual client financials. Insight Experience met with client subject matter experts in finance to understand their financial reporting. The use of client financials has multiple benefits: It educates participants on the actual content and format of its financial reports; its relevance increases participant engagement; and it makes the simulation experience realistic and credible to participants.
Program Agenda:
Session One

Income Statement Review

Simulation Overview and Software Demonstration

Round 1 Simulation Decision-Making

Session Two

Focus on Equipment Profitability

Round 1 Simulation Debrief

Round 2 Simulation Decision-Making

Session Three

Focus on Parts and Service Profitability

Round 2 Simulation Debrief

Round 3 Simulation Decision-Making

Session Four

Cash Conversion Cycle

Return on Invested Capital

Final Simulation Debrief

Action Planning and Application
A key design objective was to closely simulate the client's major business units: Equipment Sales, Power Generation, Rental, Product Support, and Technology. Participants represent these lines of business, and each has its own unique financial and profitability characteristics that need to be understood. The client also wants to expose its FLLs to the value that other lines of business provide to company success.
Additionally, the subject matter expert interviews Insight Experience conducted included discussions with people spanning multiple functions, roles, and regions. These interviews yielded information that helped inform program design, program content, the simulation's underlying algorithms, and the learning objectives for the program as a whole.
Simulation Overview
| | |
| --- | --- |
| | During the program, participants are organized into simulation teams of four to five people. Collectively, team members assume the role of a Branch Manager for a fictional heavy equipment dealership known as the Chinook Wind Group (CWG). |
As Branch Manager, simulation teams must manage and make decisions for a multifunctional business that includes Product Sales, Product Support Sales, Service Operations, Parts and Warehousing, and Finance and Administration.

Simulation teams make four rounds of simulation decisions. Each round simulates a quarter in the life of the business. Teams do not compete against one another. Instead, each competes against automated businesses, which are modeled after the company's significant product and service competitors.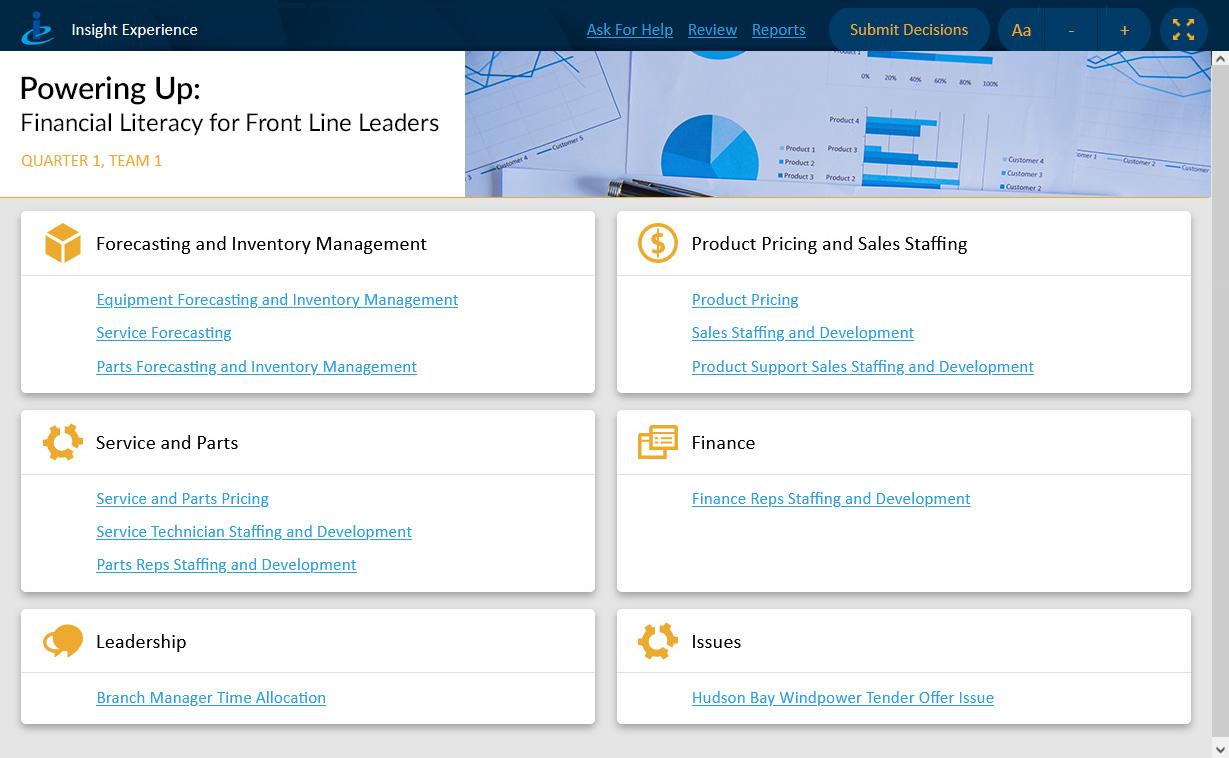 The customized business simulation reflects the client's financials and its operating model. During the simulation experience, teams make a variety of decisions, including:
Forecasting and inventory management.

Product and service pricing and marketing.

Employee staffing and development.

Leadership time allocation.

Responding to strategic opportunities and operational issues.
After each round of simulation decision-making, teams receive a variety of feedback in the form of financial and operating reports, including Income Statements, Employee Performance Reports, and Customer Satisfaction Reports.
History and Results
Since the launch of Powering Up: Financial Literacy for Front Line Leaders in 2020, 20 programs have been conducted with more than 350 participants attending. The program has received very strong feedback from participants.
Feedback Questions
Average
(five-point scale)

I learned new knowledge and skills from this course.

4.6

I better understand the drivers of profitability that were presented in the program.

4.6

I better understand how the company and its different lines of business make money and contribute to financial performance.

4.7

The facilitator was knowledgeable about the topics presented.

4.9

The simulation helped me better understand the concepts presented in the program.

4.7

I would recommend the program to other operational leaders.

4.8

Overall, I was very satisfied with the program.

4.7

Powering Up: Financial Literacy for Front Line Leaders won Brandon Hall's 2022 Silver Award for Best Use of Games or Simulations for Learning.
Here is what some participants have said about this program:
"Attending the course has created dialogue with other colleagues and team members. I can articulate commercial mindset to other people and speak the language of the business better."

"I now have a better understanding regarding the cost of doing business and understanding how to control expenses."

"Good course. Very engaging. Finance can be a dry subject, but this was well presented and enjoyable."

"The simulation enabled me to see first-hand how decisions impacted financials."

"Format of learning the topics then putting them into practice into the simulation was very effective."

"I am new to all these financial reports, so I found the whole course interesting. I now better understand an income statement."

"The simulation was excellent in driving home the results of decision-making and how we effect the bottom line."