Bringing Leadership Principles to Life:
A Large-Scale Program for Senior Leadership

Abstract
Leadership principles are critical, but many businesses are challenged to successfully operationalize them. This four-hour learning experience immerses senior leaders in a fiction-based-on-fact set of business scenarios to help them understand what operationalization looks like and visualize the connection between leadership principles and their business results. The program was delivered to a group of top 300 leaders, who left the training with clarity and then cascaded the principles throughout the organization.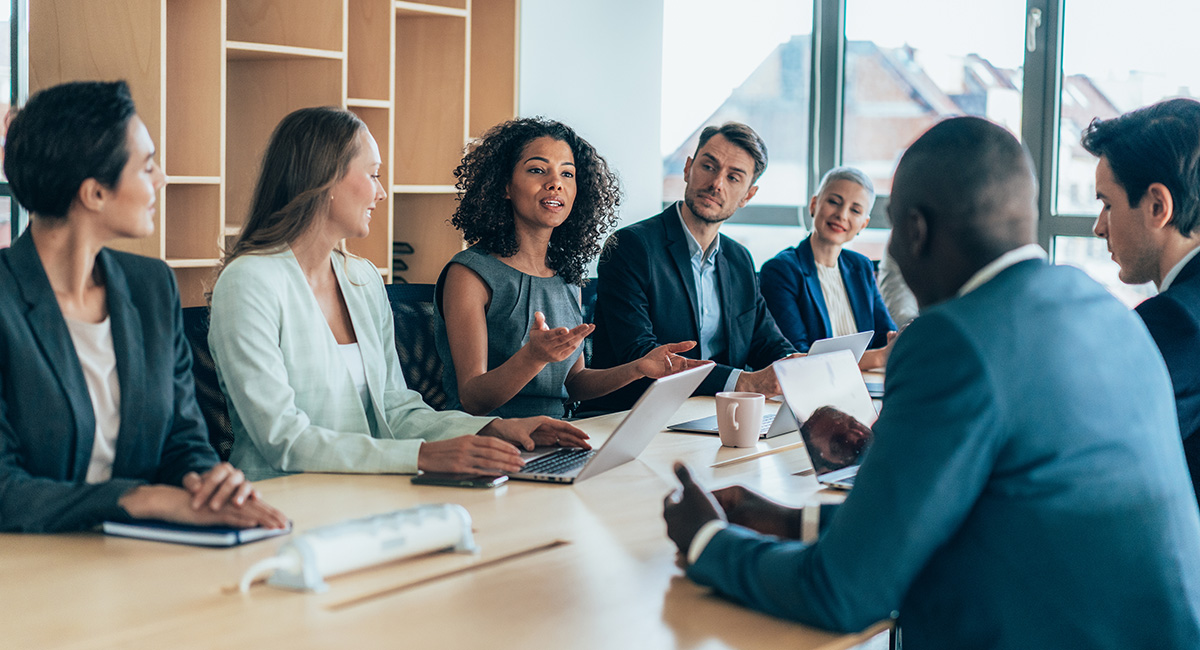 Challenge
Organizations that experience rapid growth find themselves with decentralized and misaligned leadership practices and norms. A guiding set of leadership principles can support leaders as they make trade-offs, communicate strategic decisions, and develop the next level of leaders. The development and communication of leadership principles is an important process, but the work does not end there. Ninety percent of organizations do not fully operationalize such principles. Employees may be able to recite them, but they do not know how to recognize them in their daily work, coach others to develop them, or leverage them to drive business results.
Solution
The Bringing Leadership Principles to Life program is a four-hour experience that immerses leaders in a realistic and relevant (but fictional) business that is also challenged to operationalize its leadership principles. Leaders work in small teams of four to seven people and make the consensus decisions of the senior leadership team. Over three rounds of decision-making, they are presented with a series of typical challenges in their own business. They must make trade-offs and lead their teams to resolve the challenges. Through their decision-making, they are given the opportunity to recognize and role-model the leadership principles — and to lead through them. Better adoption and communication of the principles drives better team performance, operational excellence, customer experience, and financial results.


Learning Objectives
Participants in the Bringing Leadership Principles to Life program:
Gain a deeper understanding of:
The leadership principles.

What they mean.

Behaviors that support them.

Behaviors that hinder them.
Learn to operationalize the concepts through:
The practice of embodying the principles.

Reflection o their own strengths and areas of opportunity.

Preparation of cascading the principles to all team members.

Participants experience three rounds of decision-making over the course of this four-hour learning experience. This includes a similar repetition of decision-making, reflection, and debriefing, as seen here:

Program Content
The core content of this program teaches operationalization: What is it? Why do we need it? How do we do it? What is the impact? Helping leaders realize what true operationalization looks like is the first step in their journey. With the growth of a tree as a visual metaphor, participants learn they must start small with the introduction and socialization of the leadership principles. As they begin to sprout their first leaves, they gain an awareness of these principles. After awareness, the tree grows taller and spreads its roots, much like leaders do with the intentional adoption of the leadership principles. Finally, once the tree is fully grown, it reaches maturity. For participants, this is full operationalization. They now have the tools and understanding to integrate these principles in their everyday life.

Simulation Overview
Each simulation team assumes the roles of senior functional and operational leaders at a U.S. rental staging service provider for home furnishings and decor. Participants in this program span multiple leadership levels and types. To suit the audience, scenarios are presented from several different perspectives.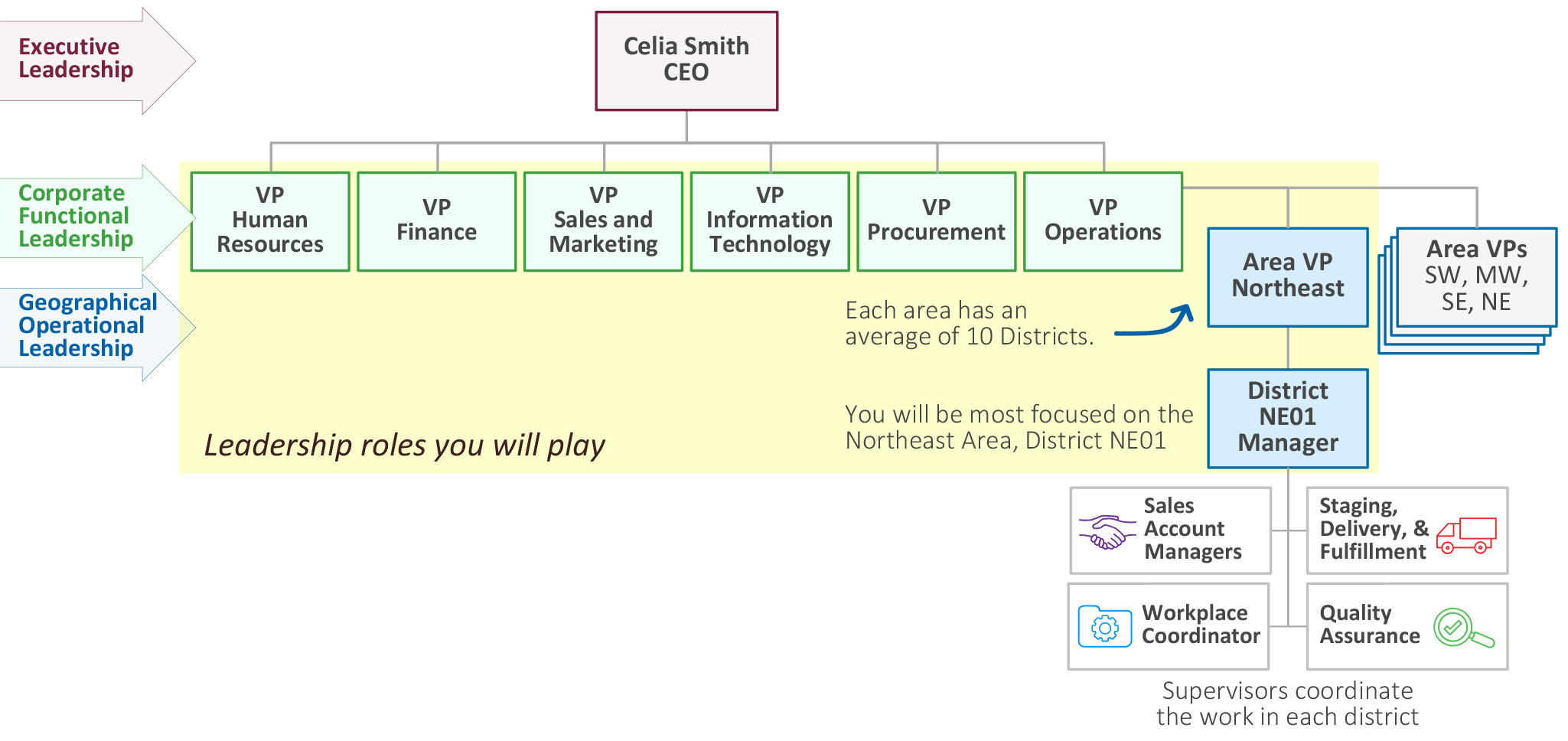 Success in the business simulation is based on how well teams:
Recognize the trade-offs between decisions that yield short-term results and those that reflect the leadership principles (with longer-term benefit).
Communicate decisions to their teams with clarity and in the context of the leadership principles.
Role-model the leadership principles through their decision-making.
Embrace an enterprise mindset to grow the overall organization, rather than an individual team.
History and Results
This program was delivered to approximately 300 leaders at a leadership conference. Insight Experience then rolled it out in virtual sessions to the remaining managers throughout the organization — the next 600 leaders — to support the cascading of the leadership principles.
Of the survey respondents at the leadership conference, all reported that the Bringing the Leadership Principles to Life portion of the overall conference was valuable in terms of enhancing their performance and/or leadership skills, and 81% of them reported that it was "extremely valuable." All survey respondents found that the program's content was relevant and helpful to them in their roles back on the job, and an overwhelming majority of them found it "extremely relevant."
Here is what some of the participants said about the program:
"The business simulation was outstanding. Doing more would be very welcome."

"The simulation was my favorite part of the conference. It allowed us to have some meaningful conversations about how we would apply our principles in real life scenarios."

"Wonderful experience. The program was exceptional. Thank you."

"Educational and enjoyable."

"The simulation exercise was really a fun exercise that fostered some great discussions."